Registration for our 2018 Conference is closing soon! This conference invites domestic violence service providers, law enforcement, and allied professionals to learn, network, and develop new tools to take back to their work.

Workshops Include:
Immigrant Survivors of Domestic Violence: Legal Rights and Safety Planning Under Current Immigration Policy

Strengthening Offender Accountability: Effective Strategies for Criminal Justice Law Enforcement and Prosecution Approaches

Navigating the Maze: A Civilian's Guide to Military Responses to Family Violence and Sexual Assault

Bringing It Out of the Closet: Community Response to LGBTQIA+ Victims of IPV

Prevalence, Impact, and Action: Preventing Adverse Childhood Experiences in Maryland

Cultural Considerations: The Impact of Domestic Violence on Immigrant Children and Their Families

Safety Planning with High-Danger Survivors
She's Too Strong! Understanding the Intersections of Misogynoir, Domestic Violence, and Victimization

Raising the Bar: Specializing Services for Survivors of Human Trafficking

Intimate Partner Violence in the Digital Age

Understanding How to Best Serve Immigrant Muslim Women Victims of Domestic Violence

Best Practices in Identifying the Primary Aggressor

Lifting Our Voices: Agency Listening Sessions for Staff and the Community

Giving New Hope to IPV Survivors: One Community's Approach to Non-Fatal Strangulation

Brain-Based and Body-Focused Interventions for Survivors of Trauma
Free Haircuts for Survivors through Share-A-Haircut!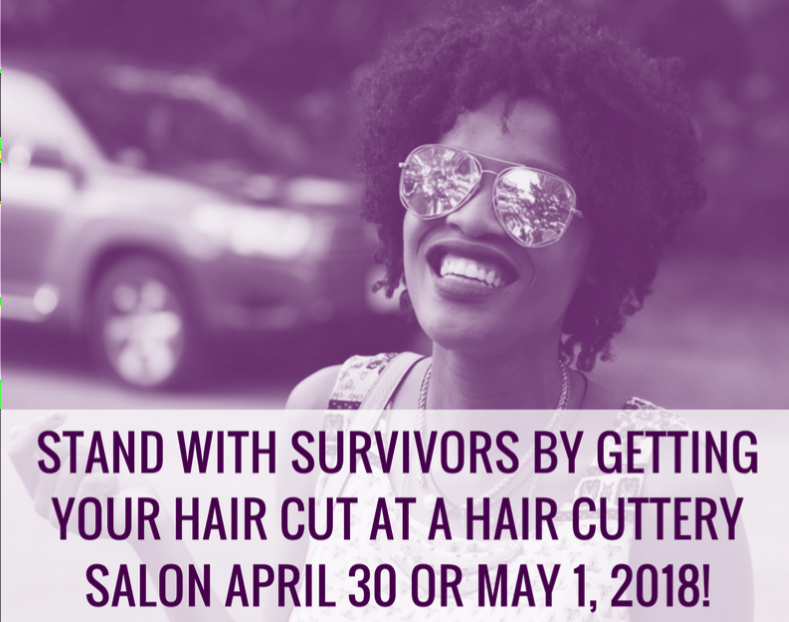 For each Hair Cuttery haircut purchased in Maryland on 

Monday, April 30 and Tuesday, May 1

, one FREE haircut certificate will be mailed directly to specific local programs to provide haircuts for domestic violence victims and their children.

In 2017, Hair Cuttery donated more than 81,000 free haircut certificates to survivors across the country.

There are dozens of Hair Cuttery locations in Maryland. Find one near you.
In Search of Training Spaces
We're in search of free spaces to hold trainings!

Does your organization or business have rooms that MNADV could use for trainings? At MNADV, we host more than 100 trainings per year for more than 1,500 service providers, law enforcement, health practitioners, and allied professionals on how to serve domestic violence survivors.

We're looking for training spaces across Maryland that:
Are free (due to grant restrictions);
Come with tables and chairs;
Are able to hold at least 15 people, up to 60;
Are available during the week for at least 3 hours, up to 9 hours;
Are handicap accessible; and
Have available parking.
If you have a training space in mind that you'd be interested in letting MNADV use for a training, please reach out to Amber Guthrie. Thank you!
MNADV Supports Full and Equal Access for the Transgender Community
The Maryland Network Against Domestic Violence has signed on to the National Task Force to End Sexual and Domestic Violence's "Consensus Statement of Anti-Sexual Assault and Domestic Violence Organizations in Support of Full and Equal Access for the Transgender Community"

We join more than 300 organizations across the country in renewing our commitment to the transgender community and to transgender survivors of violence.

When the Housing and Urban Development (HUD) Secretary Ben Carson was questioned about the removal of training materials used to ensure access to housing services for transgender people, Carson invoked a too often used myth – that allowing transgender women access to shelters would "impede the rights of one for the sake of the other"- while also using words like "uncomfortable," "anatomy," and "complex."  For those in the domestic and sexual violence field, the phrasing was clear code for justifying discrimination and even violence against transgender women by utilizing the myth that allowing transgender people to access shelters consistent with their gender identity places other residents in danger. This same language is currently being used in states around the country to push discriminatory legislation that would place transgender communities at higher risk of experiencing violence.

Hearing this myth from the Secretary of HUD was a reminder that, now more than ever, domestic and sexual violence survivors and service providers must stand with the transgender community to oppose this dangerous and false narrative and voice our support for non-discrimination protections, including the HUD Equal Access Rule, that are inclusive of transgender survivors and all survivors of sexual and domestic violence.

Transgender people experience unconscionably high rates of sexual assault and domestic violence—and forcing them out of facilities consistent with the gender they live every day makes them further vulnerable to assault. As advocates committed to ending sexual assault and domestic violence of every kind, we will never support any discriminatory housing law or policy and will stand against any statements that could put anyone at greater risk for assault or harassment.

You can sign your organization on to this consensus statement as well!
After Verizon HopeLine Program Ends, What Are Survivors' Options for Free Phones?
As word spreads that Verizon's HopeLine program, which provided free cell phones to survivors, is ending, many local programs are wondering what options are available.#NeverAgain and #MeToo Movements Intimately Connected 
When I learned of the recent school shooting in my state of Maryland, I finally had the hard #MeToo conversation I had been avoiding with my 14-year-old daughter. Why? Because the shooting was not only about school violence; it was also about sexual control and aggression by a 17-year-old boy who shot and killed his 16-year-old ex-girlfriend.

How to Tell Compelling Stories While Avoiding Savior Complex and Exploitation
The Nonprofit Sector has a long history of exploiting the stories of the people they serve, particularly, people of color which perpetuates racism and oppression. Here are some guidelines and things to consider when writing or sharing the stories of the people we serve.

New Research Shows Majority of Hate Crimes Go Unreported to Police
Findings from the Bureau of Justice Statistics's National Crime Victimization Survey (NCVS), show that from 2004-2015, the US experience 250,000 hate crimes per year. More than half (54 percent) of violent hate crime victimizations were not reported to police.

Ignoring Racism Won't End Gun Violence or Violence Against Women
Each month on average, 50 women are shot to death by current or ex-partners, and black women are disproportionately represented in that number. It is possible to respect the activists from Parkland and talk about the double standards wrought by the deeply embedded racism in this country. We will not end violence against women or gun violence unless we talk about exactly that.

13 Ways to Support Survivors During Sexual Assault Awareness Month
Chances are someone you know is a survivor of sexual violence. They might not have told you, or anyone else, out of fear of being blamed or judged. With the #MeToo movement making it more acceptable for victims to openly discuss their experiences and the added layer of April being Sexual Assault Awareness Month, it is possible that a loved one might share their story with you for the first time.

Congress Must Seize the Moment and Reauthorize Violence Against Women Act 
The Violence Against Women Act (VAWA) is central to our nation's effort to fight the epidemic of domestic, sexual, and dating violence, and stalking. We are now at a critical moment when zero tolerance for domestic violence, sexual assault and sexual harassment must be the norm. The #MeToo movement has shown us the courage and strength of victims to step out of the shadows and hold their abusers accountable. Congress must continue sending the clear message that violence against women is unacceptable and stand with these courageous survivors when they come forward seeking help.

States Inch Closer to Better Reporting on Violence Against Native Women 
More than 84% of Native women experience violence in their lifetimes, but reports of missing and murdered Native women don't garner the same attention and response as those of white women. However, in states across the country, lawmakers are giving the issue more attention in recent months.
Current Research on Batterer Intervention Programs and Implications for Policy
Batterer intervention programs (BIPs) emerged in the United States in the late 1970s as one component of the social response to intimate partner violence (IPV). The goal of this paper is to review existing research, focusing on various research designs and their strengths and limitations.A National Guide to Best Practice for Judges and Courts Special Immigrant Juvenile Status (SIJS)
This bench book is instrumental in assisting judges hearing cases in issuing SIJS findings in a wide range of state court cases involving immigrant children who have been abused, abandoned or neglected by a parent. The bench book contains quick reference guides for courts issuing SIJS findings in custody, protection order, guardianship, dependency, delinquency, adoption, and declaratory judgement cases.

Child Welfare and Substance Abuse Research Briefs
These briefs are results of research on how to better understand how select indicators associated with substance use relate to changing trends in child welfare caseloads. The results describe how the child welfare system interacts with community partners to serve an increasing population of parents whose substance use has impaired their ability to parent their children.

Showing Up: How We See, Speak, and Disrupt Racial Inequity Facing Survivors
This report shares themes and issues from the "From Margins to Center Listening Sessions" conversations to aid in self-reflection, challenge dominant narratives, support improved data collection and analysis, and to begin, continue, or advance conversations and work toward racial equity for domestic and sexual violence survivors and for all of us.

A Crisis of Hate: A Report on Lesbian, Gay, Bisexual, Transgender and Queer Hate Violence Homicides in 2017
In just August of 2017, NCAVP had recorded the highest number of anti-LGBTQ homicides in their 20-year history of tracking this information, and decided to release a mid-year report to raise awareness of this striking increase. Since the release of the Crisis of Hate report in August of 2017, the number of reported homicides continued to increase, reaching a total of 52 reported anti-LGBTQ homicides in all of 2017. This report provides a comprehensive look at all 52 of the hate violence, anti-LGBTQ homicides NCAVP reported in 2017.

Child Abuse Prevention Resource Guide
The 2018 Prevention Resource Guide was designed to support service providers as they work with families to promote child well-being and prevent child maltreatment. It focuses on protective factors that build on family strengths to foster healthy child and youth development.
RedRover Relief DV Shelter Assistance Program
Application due 

Tuesday, May 15


RedRover's Safe Housing Startup grants will allow domestic violence shelters to create their own program to help victims of domestic violence and their pets escape together. These one-time grants, up to $20,000, are offered throughout the United States and can fund the proposed program for up to two years. Grant funds may be used to pay for the boarding costs associated with housing pets at an off-site veterinary clinic or pet boarding facility and may also be used for veterinary care such as vaccinations. Deadlines to apply for Safe Housing Startup and Safe Housing Off-Site grants are 

May 15 and October 15

 each year.Community Court Grant Program
Application due 

Wednesday, May 30


The Center for Court Innovation is excited to announce the 2018 Community Court Grant Program. Community courts seek to improve neighborhood safety and engage residents in solving local problems. Researchers have documented that community courts help to reduce recidivism and the use of jail while improving public trust in justice. Since the launch of the first community court in Midtown, Manhattan, the model has expanded to new jurisdictions, new settings (including libraries), and new populations (including veterans). Assistance is available in three categories: (1) funding and technical assistance to create or enhance a community court; (2) funding and technical assistance for an impact evaluation of an established community court; and (3) recognition of, and technical assistance to, community courts that wish to serve as mentors to the field.

National Identity Theft Victims Assistance Network Expansion Program
Application due Thursday, May 31
Under the National Identity Theft Victims' Assistance Network Expansion Program (NITVAN II), the Identity Theft Resource Center (ITRC) will competitively select up to 10 organizations to develop and lead an identity theft and/or cybercrime coalition. Up to $50,000 will be awarded to each organization for a one-year grant term (October 2018 – September 2019) to engage in coalition activities within their designated service area. This funding opportunity will aid in supporting local, regional, and state victim assistance programs that help victims of identity theft and/or identity-related cybercrime. While victimization is widespread, particular groups are more vulnerable, including children, foster youth, domestic violence victims, and older adults. By supporting local victim service providers, coalitions can have a direct impact on these populations